What Others Are Saying About Our Bearded Dragon Breeding
I purchased a cute little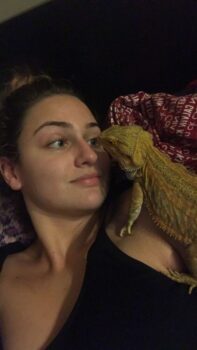 I purchased a cute little baby beardie back in April of 2016. Everything has been going great. He has a very calm and easy going temperament. Loves to cuddle up on my chest, wiggle his entire body down, and go to sleep. His favorite is being wrapped up in a hand towel and getting all cozy to nap. He's just like his momma. Loves to nap lol.
He's so calm and trusted that I can take him out in my backyard when it's warm out with confidence that he won't take off running for his life. I used a make shift leash for a while until I understood how he would react outside. He will lounge in the sun with me while I tan or relax and read a book. He also loves going on car rides and watching the outside world pass by. He is great with my dog and cats, and vice versa. The only downside that he has is he's a clean freak and absolutely refuses to poop in his cage. Only in the bath or if you take him out to hangout lol. What a guy.
Collette was extremely responsive, knowledgeable, and friendly when it came to my questions and purchasing of my baby Mushu. The next time I adopt another baby dragon, I will definitely adopt from Atomic Lizard Ranch. I have consistently recommended them over the years when asked where I got Mushu or where someone should get one from.
Hannah Lloyd
Atomic Lizard Ranch
Average rating:
116 reviews
Aug 19, 2018
We received our cool bearded dragon this week. She was perfectly wrapped inside her insulated box and arrived safe and sound. Her colors are bright and beautiful. She is very active and playful. We highly recommend Atomic Lizard Ranch for their bearded dragons and great customer service! Collette was very helpful and it was a pleasure doing business with her!
Jul 22, 2018
I recently purchased my second dragon this time from a breeder, Atomic Lizard Ranch and I must say I am truly happy with my beautiful tangerine dragon and the whole process.Collette was amazing making me feel comfortable with all her knowledge and advice.I would diffently order from her again in the future.Thank You so much for our pepper.I am very pleased and happy.
Jul 10, 2018
I recieved my first dragon this morning from Collette and I just want to say wow! He is so beautiful and has a great disposition he is a little sassy like you said! He loves being handled and got here in one piece, thank you for all your help, fair prices and excellent customer service.
May 21, 2018
I purchased my girl from Colette in November of 2016. My girl, little foot, will be two years old in July of this year. She's honestly my best friend. This dragon is so expressive, and so gentle and sweet. So much personality and love.
May 9, 2018
Great dragons @ awesome prices. We love our new beardies. Beautiful and very docile! We are in love! Thank you so much Colette
May 3, 2018
We received our girls yesterday, they came healthy, happy and beautiful. I was very wary at first of ordering them online but Collette is AMAZING. She worked with me through the whole process. I have owned 2 previously and let me tell you a lot has changed but Collette talked me through everything even how to harvest my own bugs.

The girls are thriving and loving their cage that Collette help me setup. My daughter is in absolute aww and has been all about the lizards (she helping me feed and change water since we wont handle for the 7-10 days that Collette recommends). If you are looking to purchase a beautifully colored healthy bearded dragon I definitely recommend the Atomic Lizard Ranch, I would give her 10 stars if I could! Thank you so much Collette!
Apr 29, 2018
My healthy baby dragon traveled safely from Arizona to Connecticut without incident. Having never sought out a Breeder for a special morph, I was nervous when I scoured the internet and found Atomic Lizard Ranch. Upon contacting Collette over the phone, I immediate recognized her passion. The whole interaction was pleasant and felt safe. Her knowledge is unsurpassed and her instruction is only a phone call away if I have any questions about caring for my new orange phase. Meeting my dragon for the first time was truly magical
Apr 26, 2018
I absolutely adore these dragons. They're listed for amazing prices, which made me a bit weary at first, but I wouldn't burly from anyone else. They arrive healthy and friendly, along wh eating greens. I bought my oldest girl who is 3 now from here and I wouldn't change a thing.
Apr 21, 2018
My granddaughter , Rain, just loves Luna !!!! Luna is so very friendly and is just such a wonderful pet !!!! Cant thank you enough for all your effort to raise such fine quality of Bearded Dragons ,
Thanks to for all go good advice for her.
Apr 11, 2018
I could not be happier! Our gorgeous little beardie arrived exactly when we were told, right at 10:30, and we have had him for about 2 weeks now. Wyatt has been going through the acclimation process with ease and is an extremely healthy eater, (hes very fat!). I admit I had some concerns about raising a beardie, but all of those have now disappeared. We're all very thankful to receive such a beautiful little lizard in perfect health!