BEARDED DRAGON BREEDERS SINCE 1991!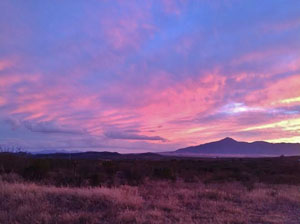 Atomic Lizard Ranch in Arizona is in the best part of the United States for breeding Bearded Dragons since the topography is very similar to Inland Australia were the Bearded Dragon has evolved. At Atomic Lizard Ranch we offer several carefully selected line bred color morphs of this fantastic dragon ranging in shades of citrus yellow, bright orange, tangerine and the gala red Beaded Dragon. We are one of the longest standing Bearded Dragon Breeders specializing in many different types of Bearded Dragons babies.
Please visit our pages for distinct color varieties available.
About Atomic Lizard Ranch, A Dragon Breeder in Arizona
In California, during the winter of 1991, a friend introduced Collette and Paul to Bearded Dragons. A male named Pearl and two females named Annie and Zoe. It was love at first sight. Collette, who originally did not like reptiles described them as, "Wonderful." It wasn't long until they were looking at two clutches of eggs! Paul went and purchased a Hovabator and they were hooked.
They owned a large 120 year old Dutch Row House which was rapidly becoming filled inside and out with enclosures that were suitable for the animals. Then Collette and Paul took a short trip to Arizona to the beautiful little mining town of Bisbee.
The recession had affected the area deeply, land and housing prices were at an all time low, and the area was ideal for raising more arid species of reptile, such as the bearded dragon. This is when the idea of Atomic Lizard Ranch came into being. Collette and Paul began to look for land along with a residence they could build upon to make a business. They needed something out of the way with plenty of land to house the animals outside. They found a beautiful spot three miles from the Mexican border with clean water, open skies, and incredible sunsets. Ideal for the dragons they love the most.
In 1996, Collette and Paul moved to Bisbee, AZ to retire and continue to raise dragons.