The Gala red phase can be a very dark red/orange and will also range into highlights of this deep color with bright orange that a camera has difficulty capturing. Some have highlights of dark gray with very slight amounts of lime green fading into yellow down the back. Gala reds have surprising beauty and variety.
Please use the number below each picture when inquiring about a dragon.  Prices have increase due to size and intensity of color.  We ship FedEx "Priority Overnight", Monday through Wednesday due to tracking.  Call or email us with your  zip code to determine shipping.  Payment can be made with Visa, MasterCard, PayPal or Money Order.
NOTE TO ALL. WE ARE NOW SELLING LOBSTER ROACH COLONIES $60.00 A POUND OR $40.00 1/2 POUND PLUS SHIPPING. YOU CAN SAVE ON SHIPPING IF ORDERING THE LOBSTER ROACHES AT THE SAME TIME WHEN PURCHASING A DRAGON. BEST PRICES ON THE NET CHECK IT OUT
PLEASE BE AWARE, WE WILL HOLD DRAGONS FOR 8 DAYS AFTER PURCHASE WITH A $20.00 HOLDING FEE.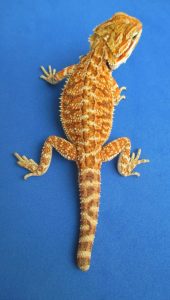 #7 Gala red female
8″ born 3/10 $65.00
click to enlarge photo
Note: nip toe and tail
Calm and sweet


#8 gala red phase female
6″ born 4/21 $175.00
click to enlarge photo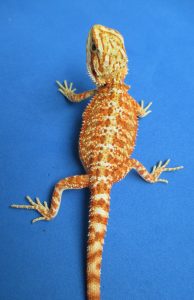 #19 Gala red female
6 1/2″ born 4/21 $200.00
click to enlarge photo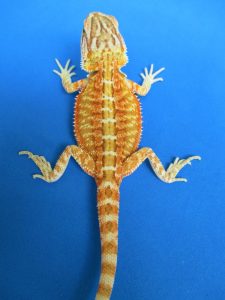 #27 Gala red male
6 1/2″ born 4/21 $150.00
click to enlarge photo
.